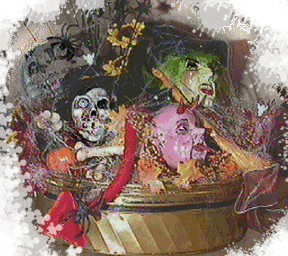 #1 Halloween music box with Witch, Red Devil and Skeleton.
Skeleton has bones and a gravestone behind him, RIP.
Red Devil has tail and cape collar (spider on the tail)
Witch has broom stick, black cat and long hat.
Covered with spiderwebs spiders and other creepy- crawlies,
this music box plays the tune from the Alfred Hitchcock Show- "Funeral March of the Marianettes"